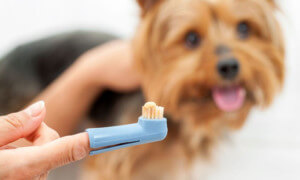 We proudly offer dental services from just $125.00 and available for dogs & cats under 10 years old already spayed or neutered or are being altered at the same time with the dental cleaning.*
Additional charges may apply for Antibiotics & Extractions
Any patient aged 10 years or older, and or with health problems (such as heart murmurs or seizures) will be referred to a local full service clinic that is equipped to handle high risk patients safely.
Dentals and why your pet needs them
According to the American Veterinary Dental Society, more than 80% of dogs and 70% of cats have dental disease by the age of 3. Dental (or periodontal) disease is the most frequently diagnosed health problem in pets.
Common signs of dental disease include:
Yellow or brown buildup (tartar) on the teeth
Red, swollen, or bleeding gums
Bad breath
Excessive drooling
Changes in eating or chewing habits
Pawing at the face
Loose teeth
Depression
Even if your dog or cat doesn't have these symptoms, we recommend that you have a veterinarian evaluate your pet's dental health at least once a year. Bacteria and food debris accumulate around the teeth and, if left unchecked, will lead to deterioration of the soft tissue and bone surrounding the teeth. This decay can result in irreversible periodontal disease, tooth loss, and possibly expensive oral surgery.
Dental disease can also affect other organs in the body: Bacteria in the mouth can get into the bloodstream and cause serious infections in the kidneys, liver, lungs, and heart. If these problems aren't caught and treated quickly enough, they can result in death. A physical exam combined with appropriate laboratory work can determine if infection in the mouth has spread.
Call Florida Aid to Animals at one of our two locations and ask about our Dental Specials. We will only do Dentals on Pets that have been spayed or neutered, or are being altered at the same time as the dental. Any pet 6 years of age or older will be required to have Senior Wellness Blood Work. Our cut off age for Dentals is right at 10 years old.
For All Dental Appointments
The patient needs to be healthy, no heart murmur or seizures, or any major health condition.
Weigh more than four pounds.
All patients for anesthesia are required to provide proof of Rabies vaccination (or our cost for the Rabies vaccine is 1 year/$22.50, 3 year/$25.50; this can be done on the day of surgery/dental)
Only for Dogs – a negative heartworm test and proof of their heartworm prevention is required. (Or we can do this test also, the cost is $33.50).
We do require a deposit [$50.00] to make the surgery/dental appointment (this deposit is your partial payment toward the total cost of the surgery/dental, you will pay the balance after the surgery/dental at the time of pickup.) This deposit is your promise to come on the day of surgery (If you no call/no show we will keep your deposit. If you need to cancel or reschedule we ask you contact us at least 48 business hours prior to the appointment).
Blood tests are required if patient is 6 years of age or older. (CBC and Blood Chemistries)
Less than 10 years old (9 years 9 months ok – not over 10 years) our doctors do not give anesthesia over the age of 10 years.
Extractions are performed only if the tooth is loose – major extractions (broken teeth) are referred to a clinic that does provide more dental services than us.
If there are fleas, ear infection, or another medical issue there could be additional charges.